At the moment we're focusing on all things travel, and to whet your appetite we're publishing some posts from our favourite travel blogs. Enjoy this one from The Road to Anywhere. 
A little bit about the author, Dean Wickham:
Dean Wickham is an intrepid traveller from Australia with a thirst for adventure. He has travelled extensively in Australia, New Zealand, Italy, Nepal and South East Asia, trekked to Mount Everest Base Camp, climbed through ice caves on glaciers and for his next adventure, plans to climb Mount Kilimanjaro. He is always planning his next trip, and writes about his travels on his travel blog: The Road to Anywhere, where he hopes to inspire other people to travel the world through his stories, destination tips and travel photos. You can follow him on Twitter, or become a fan on Facebook.
'Going face to face with Mount Everest'
I awoke in the village of Lobuche, Nepal, on a freezing morning. Overnight the temperature had apparently dropped down to under -15 degrees Celcius. Although I had been snowed in two days before in Dingboche, the weather was now perfect. Clear blue skies let the morning sun shine down on the ice capped mountains towering above me. I was an ant at their feet, some of the highest mountains in the world stood over me, reminding me of the pure beauty and power that earth possesses.
Today I would trek for about 4 hours to Gorak Shep, the last stop before Everest. I was currently at 4940m which meant I only had to ascend an extra 200m or so, but at this altitude you feel every meter. If the weather stayed good I would also attempt to ascend to my highest point today as well, Kala Pattar at 5550m.
As I climbed up the hill to Gorak Shep I continued with my slow controlled pace, stopping often to rest, catch my breath and re-hydrate. I did everything I could to ensure that I didn't succumb to the altitude. Other people weren't so fortunate, and I saw one young lady being carried back down the hill by a porter. Others looked as though they were about to collapse, with the only option to turn back and head to lower altitudes. Altitude sickness is not something to take lightly, it can be fatal.
Although I was out of breath and bit light headed, I was soon looking down on Gorak Shep.
Gorak Shep has the highest accommodation in the world at 5170m, and is the last stop before Kala Pattar and Mount Everest base camp. The tiny village is basically a handful of teahouses built on top of the moraine of the giant Khumbu glacier that makes it's way off of Mount Everest.
The altitude made it hard to have any sort of an appetite, but I forced down some lunch and was ready to make my last ascent to Kala Pattar, the highest point of my trek.
I trekked across the frozen lake next to the village, before beginning the slow climb up. At this altitude each step seemed to take a huge amount of effort. I seemed to be stopping every twenty meters or so to catch my breathe and rest. I thought at this rate I would never make it, but I knew it was the only way.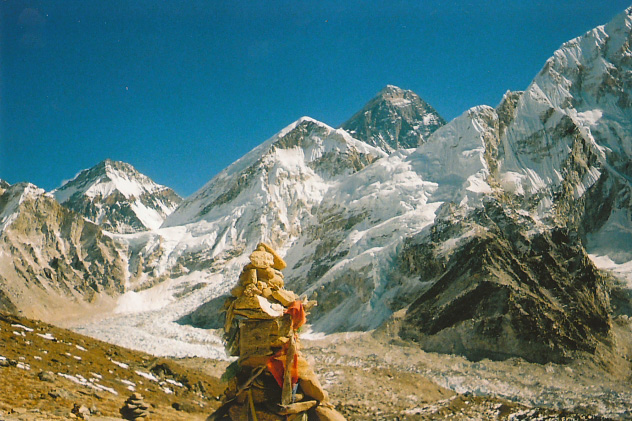 View of Mount Everest on the way up Kala Pattar
The higher I got the harder it was and the thin air made me feel extremely light headed. But I pushed on and as I climbed I got magnificent views of Mount Everest and surrounding mountains and glaciers.
I found that my mind started playing tricks on me and I began playing little games in my head. Each meter got me closer. I would set myself a goal of getting to the rock up ahead, then to another rock, slowly plodding my way up the mountain. I could see the top, sometimes it looked close, other times it looked miles away, but I was determined to get there. My lungs burned, my head was dizzy, my hands were numb and my whole body felt week and starved of oxygen. I had come this far and there was no way I was turning back. I knew I could make it.
Step after step I went on, I could see people trekking above me and I followed them, sometimes I passed people, sometimes I was passed by others. Eventually I could see people sitting at the top of the rocky summit. I climbed up the massive rocks and I touched the Buddhist prayer flags at the top. I had made it! I sat down on the windy summit, exhausted but filled with triumph. I stood there staring at Mount Everest itself and had 360 degree views of the surrounding mountains and glaciers.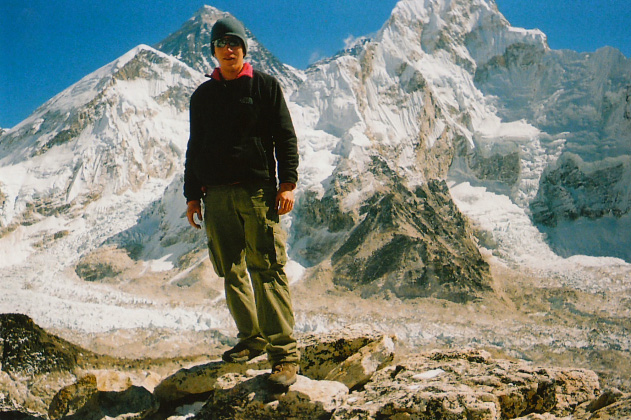 Standing on top of Kala Pattar at 5550m, with Mount Everest behind me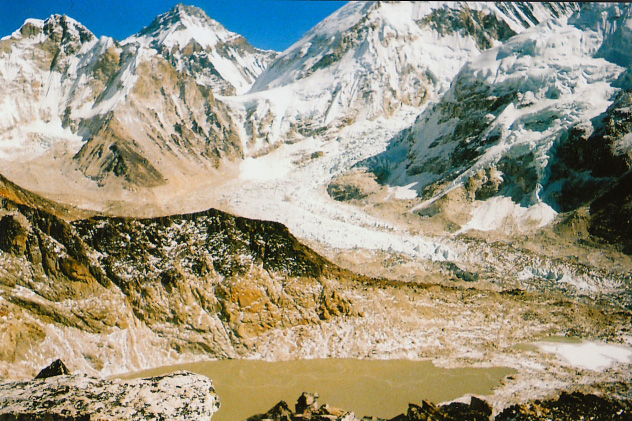 Looking down at Khumbu Glacier and Icefall from Kala Pattar, Mount Everest base camp is at the bottom of the icefall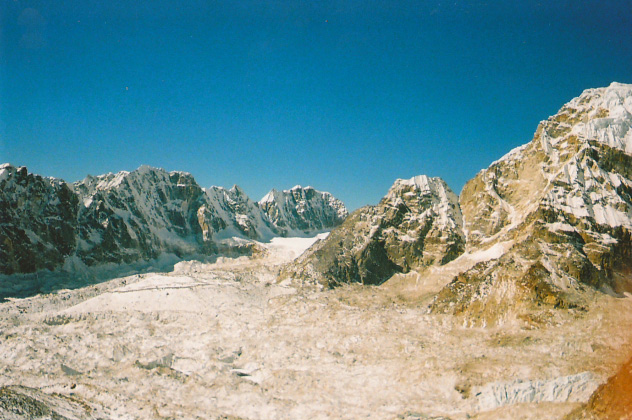 Looking down at a glacier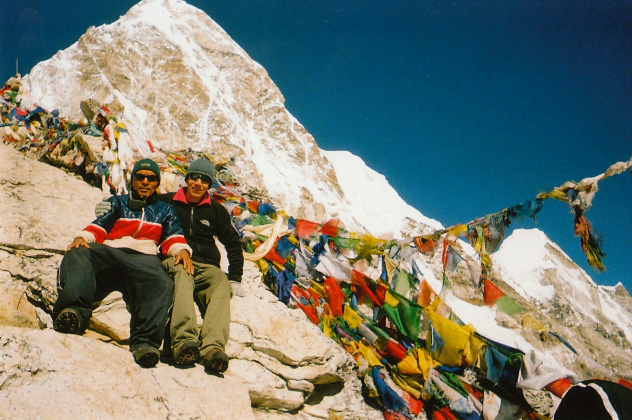 A sherpa guide and myself on top of Kala Pattar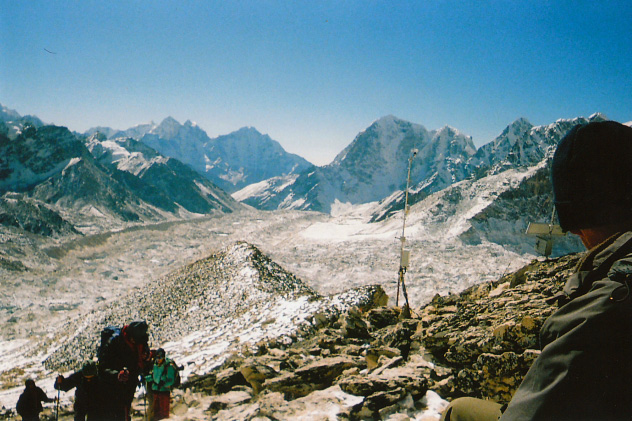 Another view from Kala Pattar, looking down on Khumbu Glacier and the valley that I trekked through.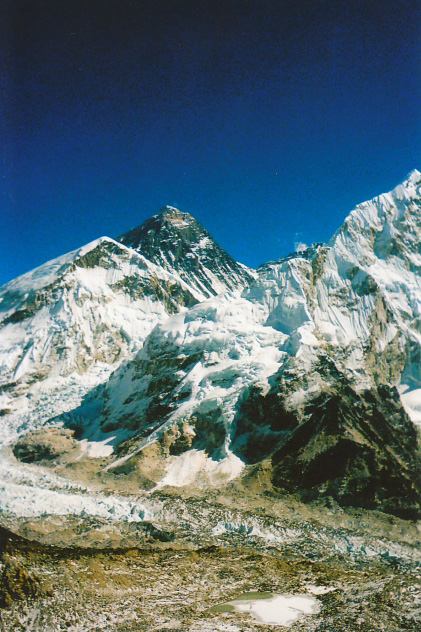 Staring at Mount Everest. The highest place on earth
I sat and enjoyed the moment for some time, but as the wind picked up and I was still feeling a bit dizzy, it was time for me to head back down the mountain to Gorak Shep. I spent the night there at the highest accommodation in the world, and I slept soundly after a huge day.
When I awoke in the morning the weather was still perfect, though cold. I threw on my down jacket and began my trek to the Mount Everest base camp. The base camp is lower than Kala Pattar, at 5364m, so I knew I shouldn't have too much trouble with the altitude.
The trek follows along the rocky moraine of the Khumbu Glacier and parts of it aren't so easy going, climbing up some steep sections of rock and gravel, the snow sometimes covering holes which would make it very easy to twist an ankle.
Trekking along the moraine gives fantastic views of the glacier and icefall as it tumbles off of Mount Everest.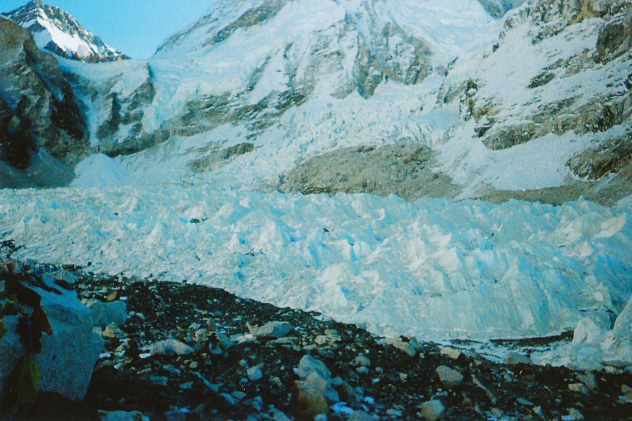 View of the Khumbu Glacier
As I approached the base camp, the trail heads down the side of the moraine onto the glacier itself. The glacier is covered in rock and dirt, so you don't need crampons to get to the middle of the glacier, where the base camp is located. There is something amazing about being on a glacier, the pure force of the ice and the beauty of the different colours makes it an awe inspiring experience. As I neared my destination I could here the ice groaning under my feet, and again I felt like an ant at the mercy of some greater force.
I eventually made it to the old base camp where Edmond Hillary and Tenzing Norgay had camped when they first conquered the highest mountain in the world, along with those that followed them. The new base camp is apparently further over, closer to the icefall, but I didn't need to go there. I had achieved what I had set out to do and though I couldn't see Mount Everest from the base camp, I had climbed as far up the mountain as I would ever go.
Standing at the Mount Everest base camp and on top of Kala Pattar made me feel like I was standing on top of the world, even though it was the top of the world that I was looking at.
When I got back to my starting point at Lukla a few days later, I had been trekking for nearly 2 weeks and over 100km, I was exhausted but at the same time I was ready to do it again if I could. The experience is worth it.
I know that I will be back to this amazing part of the world.
The NSW Writers' Centre is running The Art of Travel Writing with Bruce Elder on Sunday 6th May.