Writers on Writing is our regular conversation with a writer or industry professional about the writing craft, industry insights, and their own practice. This week, we spoke to author and editor Anna Spargo-Ryan about writing across fiction and memoir and the creative opportunities that each provides.
---
After writing two novels, how did it feel to write a memoir?
Blissful! As a self-absorbed writer, memoir is a very comfortable place to be. I've been writing about myself (and forcing other people to read it) since I was a teenager, and at some level a memoir felt like a logical extension of those 90s online journals.
Unlike most novel writing, memoir is an opportunity to speak explicitly and directly. I am furious about the state of mental health understanding and care, and I intended to make that very clear in my book. A novel can be a call to arms, certainly, but writing a memoir was a chance to eliminate ambiguity. I'm angry. I'm tired. And I haven't couched it in allegory.
Do you prefer writing and teaching fiction or non-fiction, or is it impossible to choose?
It's easy to choose. Non-fiction is my spiritual home. It still uses all of the techniques of fiction writing, so I get to enjoy the craft of putting words in a certain order for specific (sometimes secret) reasons, but I'm clearer about what I can and want to do with nonfiction writing. Anyway, most of my best fiction is very, very, very thinly-veiled auto-fiction.
Do you feel that you use a different level of creativity or different disciplinary structures when writing for media vs writing a book?
Every form requires its own approach and attention. A short piece, like a column, can sometimes be more testing because you need absolute clarity about what you want to say and how – neither of which comes naturally to me! There's a lot of space to hide in a book, and often a lot of opportunity to expand on your meaning. Writing short non-fiction is often an exercise in shorthand and in taking a guess about what your audience already knows. Jokes are like that too, I think. Finding shortcuts to common understanding.
What is your favourite piece of advice when writers are moving from first draft to the next draft?
There is no rule that says "this is the end of draft 1 and the beginning of draft 2". Your work can and will progress uniquely to you. My "versioning system" (such as it is) works like this: I'm bored and sad of this version, so I'm going to save a new file and put "v2" on the end. You can move on whenever you feel like it. Sometimes a fresh start is exactly what a manuscript needs.
What are your favourite books you've read recently?
Anna Funder's new book, Wifedom. Gosh, she's so good!
---
Anna Spargo-Ryan is a Melbourne writer whose latest book is A Kind of Magic, a memoir about life with complex mental illness. She is also the author of two novels, was the inaugural winner of the Horne Prize, and is the current Nonfiction Editor at Island.
---
Join Online Feedback: Manuscript Development with Anna Spargo-Ryan from 11 September to 24 November 2023, online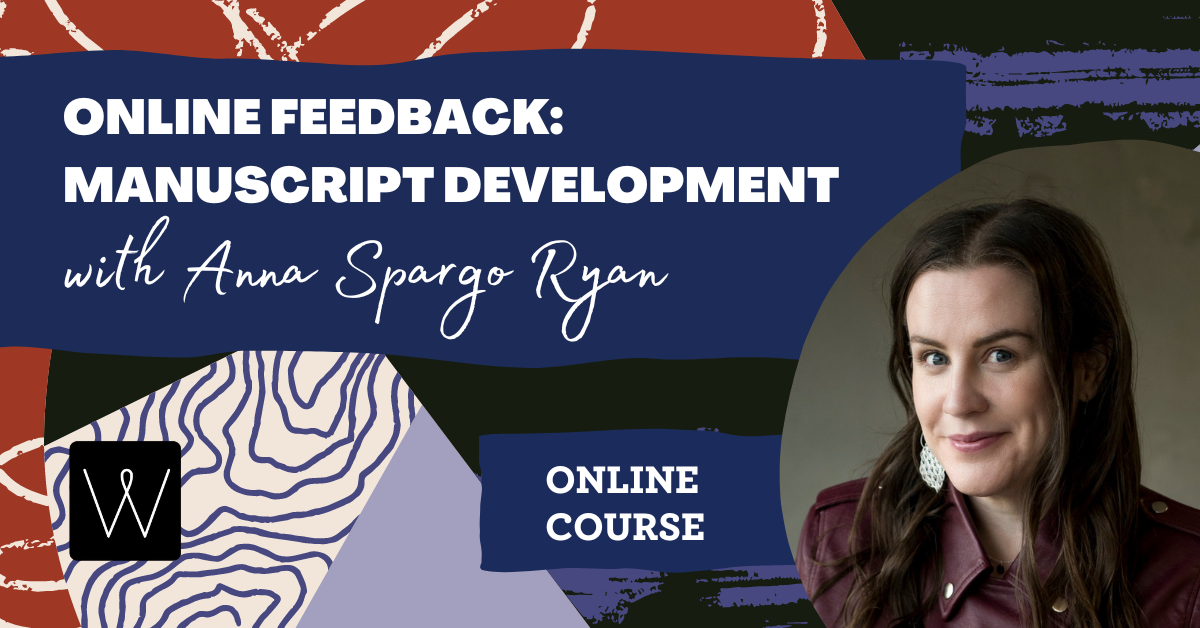 If you want to be the first to read great advice, prompts and inspiration from our incredible tutors, subscribe to our weekly e-newsletter Newsbite. 
More from Writing NSW
Check out our full range of writing courses in Sydney, our online writing courses and our feedback programs to see how we can help you on your creative writing journey. Find out about our grants and prizes, as well as writing groups across NSW, and sign up to our weekly newsletter for writing events, opportunities and giveaways.